Debut album by Houndstooth coming July 16th
posted 5/15/2013
Ride Out the Dark is the debut CD/LP by Portland five piece Houndstooth. Check out the lead single "Canary Island" below:


Rollin & Tumblin
posted 4/19/2013
Check out the 12 minute plus iTunes bonus track from Long Island (and b-side to the mailorder bonus LP). Endless Boogie are currently on tour in Europe...


Endless Boogie add LA date
posted 3/21/2013
Quick stopover on the way home from Australia, Endless Boogie will play The Echo in Los Angeles on Sunday April 7th. Tickets go on sale this Saturday March 23rd and will cost you only $10. Not bad. Be sure to note it's an early show (doors 5:30).

The band will spend the bulk of April traveling through Europe. Only scheduled New York show at the moment is May 12th at The Bowery Ballroom with Mudhoney. You can get tickets for that solid bill here.

Check out the review of Long Island in the current issue of Rolling Stone.
Family Band / Lace
posted 3/11/2013
Brand new Family Band video directed by Sam Macon who was also behind the Moonbeams video from a few months back. Watch, then pick up Grace & Lies in our webshop or on iTunes.


FAMILY BAND "LACE" (OFFICIAL VIDEO) from samuel j macon on Vimeo.
Endless Boogie World Tour
posted 2/21/2013
Now that Long Island has hit the streets and praise is coming in from nearly every publication, including the paper of record and New York's finest record shop, the band are getting ready to take the show on the road. First up, some overseas aktion. These are going to be hot tickets, so if you live nearby, don't wait til the last minute. Look for some US dates to be added in the spring and summer:

Mar 27 - Good God Small Club - Sydney (AUS) tix
Mar 28 - Brisbane Hotel - Hobart (AUS) tix
Mar 29 - Tote Hotel - Melbourne (AUS) tix
Mar 30 / 31 - Boogie Fest
Apr 3 - Northcote Social Club - Northcote (AUS) tix
Apr 4 - Barwon Club - Geelong (AUS) tix
Apr 7 - The Echo - Los Angeles, CA
16 Apr - Le Vabaun - Brest (FR)
17 Apr - Point FMR - Paris (FR) tix
18 Apr - Viadukt - Zurich (CH) tix
19 Apr - Jungfer - Arnstadt (DE) tix
20 Apr - Roadburn Festival - Tilburg (NL)
21 Apr - Trix - Antwerp (B) tix
22 Apr - Corsica Studios - London (UK)
24 Apr - Loppen - Copenhagen (DK) tix
25 Apr - Truckstop Alaska - Goteborg (SWE)
26 Apr - Crossroad Club - Oslo (NOR) tix
27 Apr - Debaser - Malmo (SWE) tix
29 Apr - Vera - Groningen (NL) tix
30 Apr - TRIPS à moda do Porto - Porto (POR) tix
1 May - ZDB - Lisbon (POR) tix
2 May - The Space Cadet - Madrid (ES) tix
3 May - Ibu Hots - Vitoria-Gasteiz (ES) tix
4 May - Le Bukowski - Donostia (ES) tix
30 May - Nelsonville Festival - Nelsonville, OH tix
1 Jun - The Hideout - Chicago, IL

Purchase Long Island in our webshop or on iTunes.
Long Island getting close
posted 2/8/2013
As of this writing we're just about 10 days away from the 2/19 street date for Long Island. Press is starting to hit the streets and the word is: GREAT. Mojo Magazine (in their 4 star review) said the record is: a roller-coaster of amplified sound... Long Island is alive and involving, creating a world of it's own. Uncut wrote such a fantastic review we couldn't pick out just one quote, so we posted the whole thing below. And finally the team at NPR Music were so excited about the record that they asked to premiere the monster 13 minute opening track 'The Savagist'. Check that out at this link.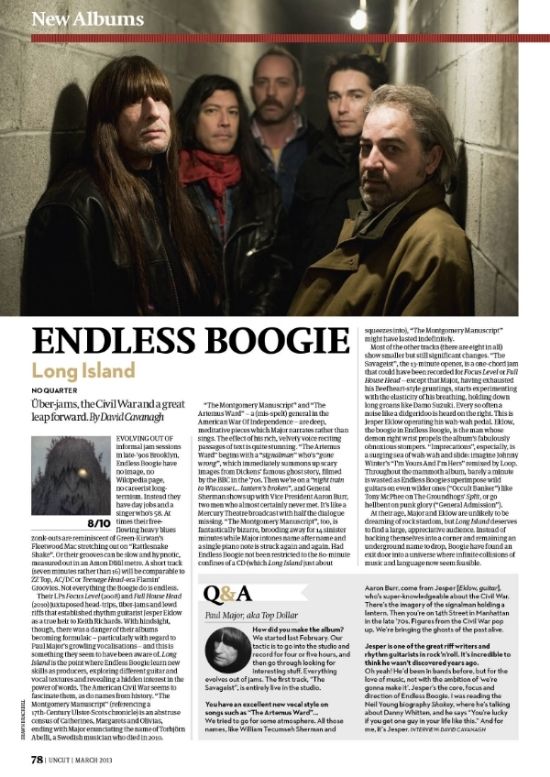 Endless Boogie announce Long Island, pre-order with a bonus LP
posted 1/11/2013
On February 19th Endless Boogie will release their 3rd studio album LONG ISLAND. Recorded this past summer in Brooklyn, it's another massive effort from the group running 8 tracks and clocking in at 79 minutes in length.

Hear the first single: "Taking Out The Trash"


We have the album up for pre-order over in the webshop with a special bundle which consists of:

- Long Island CD or 2xLP, an exclusive bonus 12" and a nice looking 18x24 poster.

The 12" includes a great 13 minute number called "Rollin & Tumblin" recorded during the Long Island sessions and left off only due to time constraint. Side B is a live jam recorded on WFMU. We only made 400, so act fast on those!

If you live in New York then come out to the record release show on February 15th at Cameo Gallery. Arbouretum & Hans Chew fill out that bill. If you're in Europe, Endless Boogie are booked at the Roadburn Festival in Tilburg, NL happening in mid-April. They're planning a few more dates around that so stay tuned...
Doug Paisley / What I Saw
posted 10/15/2012
Live in Toronto, August 2012

Family Band / Moonbeams
posted 9/14/2012
Terrific video directed by Sam Macon



Buy the album on iTunes
Jennifer Castle w/ Lower Dens, NYC Taper recording
posted 9/10/2012
Jennifer Castle whose album Castlemusic we released earlier this year (purchase in our web shop or on iTunes) has been added as support to a few Texas shows with Lower Dens:

10/11 - Club Congress - Tucson, AZ
10/12 - Lowbrow Palace - El Paso, TX
10/13 - Red 7 - Austin, TX
10/14 - Fallback Records - McAllen, TX
10/15 - The Korova - San Antonio, TX
10/16 - Club Dada - Dallas, TX

Additionally, we highly recommend checking out this live recording of Castle from August 1st, 2012 courtesy of NYC Taper: Jennifer Castle - live at Union Pool


Doug Paisley European tour
posted 8/28/2012
Starts this weekend at the great End of the Road Festival in Salisbury, UK then hits a few cities throughout Europe. Doug returns to the states on September 21st to play Radio City Music Hall with Bon Iver. Tickets are still available for that show.

9/2 - End of the Road - Salisbury, UK
9/3 - St. Mary's Church - Guildford, UK w/ Richard Buckner
9/4 - Borderline - London, UK w/ Frank Fairfield
9/5 - What's Cookin' - London, UK
9/6 - Brudnell Social Club - Leeds, UK
9/7 - Mead's - Cork City, IE
9/8 - Whelan's - Dublin, IE
9/9 - De Barra's - Klonakilty, IE
9/13 - Kargadoor - Utrecht, NL
9/14 - Roepaen - Ottersum, NL
9/15 (early) - Take Root Festival - Groningen, NL
9/15 (late) - Huise Verloren - Hoorn, NL
9/16 - Incubate Festival - Tilburg, NL
9/17 - Paradiso - Amsterdam, NL
9/21 - Radio City Music Hall - New York, NY

Purchase Doug's latest release Golden Embers in our webshop or from iTunes

Live from Pickathon

Family Band on the World Cafe
posted 8/28/2012
Family Band stopped by WXPN studios to perform a few songs for David Dye and the World Cafe. Listen here
The Psychic Paramount opening for The Jesus and Mary Chain
posted 8/23/2012
The Psychic Paramount were just added as openers to the upcoming Jesus and Mary Chain tour hitting quite a few cities they missed on their recent US trip. They'll wrap up this run with an appearance at All Tomorrows Parties in NYC on Sunday September 23rd. Labelmates Endless Boogie are also on that bill:

9/5 - House of Blues - New Orleans, LA
9/6 - Variety Playhouse - Atlanta, GA
9/7 - Hopscotch Fest - Durham, NC
9/8 - Union Transfer - Philadelphia, PA
9/9 - 9:30 Club - Washington, DC
9/11 - Paradise - Boston, MA
9/12 - Paradise - Boston, MA
9/13 - Irving Plaza - New York, NY
9/14 - Irving Plaza - New York, NY
9/15 - St. Andrew's Hall - Detroit, MI
9/18 - First Avenue - Minneapolis, MN
9/19 - Majestic Theater - Madison, WI
9/20 - The Vogue- Indianapolis, IN
9/21 - House of Blues - Cleveland, OH
9/23 - All Tomorrows Parties - New York, NY

Family Band / acoustic performance
posted 7/25/2012
Family Band "Lace," An Exclusive Acoustic Performance from FreePeople on Vimeo.
Doug Paisley / West Coast
posted 7/19/2012
Doug Paisley will play a few shows in California next week performing songs from his just released Golden Embers EP as well as last years critically acclaimed Constant Companion LP. Don't miss him!

July 26th - Freight and Salvage - Berkeley, CA tix
July 27th - Sophia's Thai Kitchen - Davis, CA
July 29th - McCabe's Guitar Shop - Santa Monica, CA tix
Family Band record release shows
posted 7/6/2012
Family Band will play two record release shows for Grace and Lies (in stores 7/24). Friend and labelmate Jennifer Castle will open both. Tickets are limited. Links to purchase below...

Tues July 31st - First Unitarian Chapel - Philadelphia, PA tix
Wed August 1st - Union Pool - Brooklyn, NY tix

Hear Night Song
Jennifer Castle on Daytrotter
posted 6/25/2012
Check out this amazing session Jennifer recorded for Daytrotter, and pick up Castlemusic on CD or LP in our webshop.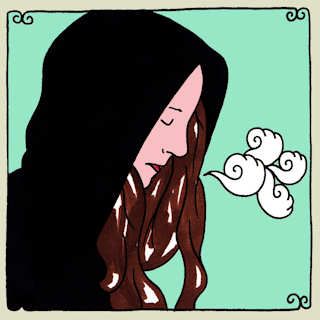 Family Band - Night Song video
posted 6/22/2012
Pre-order Grace and Lies in our webshop


Family Band - Night Song from Family Band on Vimeo.
The Psychic Paramount US tour
posted 6/19/2012
The Psychic Paramount have announced a US tour for July and August including stops at the Pitchfork Music Festival and a west coast run with Phil Manley's (Trans Am) Life Coach project. This will be the bands first trip to the west coast since 2007 and their most extensive US tour since the release of last year's critically acclaimed album II. The album made year end lists at NPR, The New Yorker and Pitchfork. The Psychic Paramount will begin recording their follow-up this summer.

Jul 8th - Cameo Gallery - Brooklyn, NY
Jul 9th - Casa del Popolo - Montreal, QC
Jul 10th - Horseshoe Tavern - Toronto, ON
Jul 11th - Lager House - Detroit, MI
Jul 12th - Wexner Center - Columbus, OH
Jul 14th - Pitchfork Festival - Chicago, IL
Jul 15th - Cactus Club - Milwaukee, WI
Jul 16th - 7th Street Entry - Minneapolis, MN
Jul 17th - The Aquarium - Fargo, ND
Jul 20th - Rickshaw - Vancouver, BC *
Jul 21st - Capitol Hill Block Party - Seattle, WA
July 23rd - Mississippi Studios - Portland, OR *
Jul 27th - The Satellite - Los Angeles, CA *
Jul 28th - Cellar Door - Visalia, CA *
Jul 29th - Brick and Mortar - San Francisco, CA *
Jul 30th - The New Parish - Oakland, CA *
Aug 1st - La Grange - Dallas, TX
Aug 2nd - The Mohawk - Austin, TX
Aug 3rd - The Opolis - Norman, OK
Aug 4th - Replay Lounge - Lawrence, KS
Aug 5th - Cicero's - St. Louis, MO
Aug 7th - 31st Street Pub - Pittsburgh, PA
Aug 8th - BAR - New Haven, CT
Aug 9th - Union Pool - Brooklyn, NY

* w/ Life Coach
Family Band pre-order / listen (and buy) the new single
posted 6/6/2012
Just a few short weeks until Family Band's second album arrives in record stores (7/24). It's great. A cool, icy breeze in the dead of summer. A few weeks back we let you hear Night Song and today you can hear the third track from the album 'Moonbeams':


It's a stunner. If you'd like to own this song (and who wouldn't) head on over to iTunes where you can buy it for less than a cup of coffee.

We're also offering a pre-order of the CD/LP starting now in our webshop. Get on it!
Family Band - Night Song
posted 5/14/2012
On July 24th we'll release the amazing second album by Family Band. More info on that soon. For now we wanted to share the opening track, which has been making it's way around the world wide web:

Night Song
Doug Paisley in Chicago
posted 5/9/2012
It's been awhile since Doug Paisley has performed in Chicago but he'll play a special show at The Hideout on Wednesday June 6th. It's an early show (Doors at 7:30pm) with no openers, but it will only cost you $7. Bargain! Facebook users can RSVP here.

Doug has two others shows around this time, both opening for Kathleen Edwards:

June 7th - Kent Stage - Kent, OH
June 8th - The Magic Stick - Detroit, MI

Pick up his new EP Golden Embers at our webshop.
Nathan Salsburg: NPR Tiny Desk session
posted 5/3/2012
Order Affirmed on CD or LP in the No Quarter webshop!


The Psychic Paramount / upcoming live shows
posted 4/30/2012
The Psychic Paramount have added a few upcoming live shows, including stops at Le Poisson Rouge in New York and Pitchfork Festival in Chicago. More dates are in the works for this summer so stay tuned!

May 14th - Cafe L'Agitee - Quebec City, Quebec
May 15th - DIY Space - Providence, RI
May 16th - Great Scott - Allston, MA
May 18th - Higher Ground - Burlington, VT
May 19th - Le Poisson Rouge - New York, NY tix
May 26th - Villette Sonique - Paris, France
July 14th - Pitchfork Festival - Chicago, IL
July 21st - Capitol Hill Block Party - Seattle, WA
Doug Paisley - Golden Embers
posted 4/12/2012
New 5 song EP in stores Tuesday April 17th and available now on CD and vinyl in our webshop. Doug Paisley has been working on his new full-length, but cut these five tracks right before the new year in Toronto. Backed by Bazil Donovan (bass), John Showman (fiddle), Robbie Grunwald (piano), Dana Snell (Drums), Joey Wright (mandolin) and Leslie Feist (harmonies). It sounds great. Listen to a song below:

mp3 - Bats
Jennifer Castle in Quebec
posted 3/7/2012
Castlemusic in stores today!
posted 3/6/2012
Spring is coming, and what better time to head down to your local record shop to pick up Castlemusic by Jennifer Castle, in stores today on CD & LP. If you don't have a record shop nearby (a sad truth for some these days), head on over to our webshop and we'll take care of you. You can also purchase the record from Itunes (and if you're a Canadian resident, the record is available from Flemish Eye)

Spin Magazine loved the album so much they asked permission to stream it for a few days on their website, which they're doing now.

Next week Jennifer will be perform a few times at SXSW. If you happen to be in Austin, make some room on your schedule:

March 16th - Hotel Vegas - 9:30pm (Pop Montreal showcase)
March 16th - End of an Ear - 3pm
March 16th - Hotel Vegan - 12:15pm (Brooklyn Vegan day party)

mp3 - Jennifer Castle - Neverride
To And Fro
posted 2/18/2012
Doug Paisley will be releasing new music at some point in 2012 but for now he took some time to record an unreleased tune for the great website Southern Souls. Artist Heather Goodchild created Doug's 'audience' . Heather does amazing work and was also behind the cover image for Constant Companion.


DOUG PAISLEY - To & Fro from Mitch Fillion (southernsouls.ca) on Vimeo.
Nathan Salsburg tour dates
posted 1/26/2012
In support of his critically acclaimed album Affirmed, Nathan Salsburg will head out for a week of shows in homes, record shops & studios. If your town is lucky enough to be on his route, we highly recommended not missing what's sure to be a memorable and intimate performance (even if one of these dates happens to conflict with a major, overhyped sporting event).

Popmatters recently said this about Salsburg: The guitarist and his compositions shine from the moment the proverbial needle drops on the lyrical jaunt 'Sought & Hidden' until it winds down with the jaw-dropping goodness of 'Affirmed'. Comparisons to legendary guitar figure John Fahey fit and come easily but Salsburg is never less than his own man, even a dash of the Reverend Gary Davis creeps in here and a dose of Ry Cooder shows up there... Perfection is hard to quantify but this record is one that others like it will soon be measured against. :

Feb 3rd - Harvest Records - Asheville, NC w/ Rayna Gellert
Feb 4th - Horizon Records - Greenville, SC
Feb 5th - House show - Durham, NC (write for details)
Feb 7th - Cfoot Studio - Charlottesville, VA w/ Ned Oldham & Alex Caton
Feb 20th - Used Kid Records - Columbus, OH

Endless Boogie / Union Pool Residency
posted 12/30/2011
Happy New Year.

Bundle up and see Endless Boogie every Thursday night in January at Union Pool (484 Union Ave, Brooklyn). This will be your last chance to get their new 12" (20 Minute Jam Getting Out of the City, ltd to 400 copies) at a decent price. The Boogie plan to start work on studio album #3 shortly after these shows.

The dates:
January 5th
January 12th
January 19th
January 26th

Back in stock: Doug Paisley s/t LP
posted 12/13/2011
In stock on vinyl for the first time in awhile: Doug Paisley's critically-acclaimed debut album. Back in January 2009 Mojo Magazine described it as such: 'along comes a young songwriter who's tapped into the red clay dirt of a new depression America. The biggest surprise is that he's done it gently with songs of poetry, harmony and sweetness and the honeyed, craggy voice of the classic American country singer...'

Hear: What About Us

It's been remastered and we added a download coupon. NOTE: We are turning around mail-order pretty quick these days but if you'd like to order this or any other title as a holiday gift just send a note to: mike@noquarter.net to assure it arrives on time.
The Psychic Paramount on NPRs best Outer Sounds of 2011 and The New Yorkers best music of the year list
posted 12/1/2011
#2 on album NPR's list! View here and pick up II if you've slept on it like a fool.

They also made Sasha Frere-Jones best music of 2011 list in The New Yorker. View that here.
Nathan Salsburg - Affirmed
posted 11/10/2011
We're thrilled to be releasing the debut solo album by Louisville-based guitar player Nathan Salsburg. This CD/LP will hit stores on November 15th and is available now in our webshop.

Salsburg is a skilled player, who has no doubt been inspired and informed by his years spent working for the Alan Lomax Archive, but surely in addition to that, experiences that go much deeper. The songs contain a level of emotion and originality which cannot replicated or reproduced. As the Raven Sings The Blues blog says: His playing bears much of the soul of Suni McGrath and the studied pacing of Leo Kottke. Any fan of the style would be well advised to pick it up.

Hear the title track below:

Affirmed

He'll play a few scattered live dates in November (check the tour page) with more comprehensive touring coming in 2012. You can hear him on local Louisville station WFPK November 15th and on the WNYC program Soundcheck November 21st.
Laddio Bolocko / back in stock!
posted 6/1/2011
Finally back in stock in our webstore. Laddio Bolocko were the band that preceded The Psychic Paramount. Drummer Blake Fleming also played with Dazzling Killmen, Zeni Geva and was a founding member of The Mars Volta. Here are some reviews from when the album was originally released:

Imagine Brian Eno wandering into a studio with Can and Don Caballero, the lot of them crafting drones and textures, sounds that swirl in circles, stop in one place and then flit the opposite way. Horns that arc like whale calls and guitar bleats like sirens, beats that are too complex to be human and too graceful to be a machine. Picture all these things knotted into a sonic tapestry that's jarring and mesmerizing at the same time, beautiful and confusing, comforting but somehow unsettling. You'd be approaching what Laddio Bolocko created during their short lifespan, but not quite doing it justice. The New York quartet formed in the late 90's and split in 2001, releasing three discs you'd likely have come across only if you saw the band live. Which, anyone who did will attest, was akin to walking in on the Aurora Borealis captured within the walls of a dive bar – beautiful, captivating and wonderfully overwhelming…. Altered states suit it best, but Laddio's music essentially provides it's own headtrip. - CMJ New Music Monthly

[Laddio Bolocko] effortlessly converged at the service of drive and trance, occasionally jutting out unpredictably into harsher realms. Live, they were a powerhouse, and though their recorded history is brief, it demonstrates a remarkable range of expression, precision and raw power. I've read comparisons to This Heat, Can and Albert Ayler, and while dropping names is usually a quick, cheap way to avoid describing music, in this case I think it really does pay tribute to the quality of their stuff. In short, Laddio Bolocko were fucking awesome. - Pitchfork
Critical praise all around for The Psychic Paramount II
posted 3/18/2011
And just in case you've missed it. We've collected some here:

It's been almost six years since the Psychic Paramount's last album, Gamelan Into the Mink Supernatural. Normally a hiatus that long indicates a need to reform, retool, or in some way restart. But apparently this New York trio just gestated, growing their music into something wider, thicker, and harder to define. In huge jams that soar, crash, and smolder-- often at the same time-- the band pumps extra blood and muscle into their sound, as if stretching a balloon into a blimp.-Pitchfork

Easily the best NYC release of this young year -Village Voice

A cannonball of a record shot off a cliff in high-def... its quick-cut twists and turns like a Bourne Supremacy for the senses.-NPR

These guys really are pretty much the only real successors to the legacy of This Heat, but they've boiled that sound into something more focused and singular, a blown out, heady psychedelia, a modern krautrock that manages to forge its own super unique, idiosyncratic path through a world of same sounds.
-Aquarius Records

Pick up II in our web shop